Survivor Masters: Paris

NG_Filipe
Community Manager, Staff
Posts: 427

Survivor Masters: Paris
The Survivor Masters Series is headed to Paris. Will ZHH Maggie ♠ the winner of SM: New York reign as Champion or do you have what it takes to dominate the Tournament?
Starting on Monday January 11th at 09:00 UTC and ending on Monday January 29th at 08:50 UTC the Survivor Masters: Paris has 6 rounds with each round lasting for 3 days. You will receive one free ticket every 24 hours while the tournament is ongoing. Additional tickets can also be purchased from the Our World Shop for 100 Gold. One free ticket will be available in the Shop on January 11th 09.00 UTC. This must be claimed within 48h.
Survivor Masters: Paris - Rounds

Round 1: Jan 11th - Jan 14th


Round 2: Jan 14th - Jan 17th

Round 3: Jan 17th - Jan 20th

Round 4: Jan 20th - Jan 23rd

Round 5: Jan 23rd - Jan 26th

Round 6: Jan 26th - Jan 29th
Structure & Promotions
At the start of the SMS, after playing your first attempt, you will be randomly grouped with other Players in Bronze division on Round 1 or any other Round depending on when you start the tournament.
After each Round, the highest scoring Players of each group will be promoted to the next Division. You can see who is in the promotion zone on the group Leaderboard:

The Top 10 in each Bronze Division Group get promoted to Silver
The Top 10 in each Silver Division Group get promoted to Gold
The Top 5 in each Gold Division Group get promoted to Champion
The Top 2 in each Champion Division Group get promoted to Ultimate
The Ultimate Division only has 1 group and does not have a promotion zone. 
Players can not be demoted.

You can find more information about SMS Structure and Promotion 
here
.
Feedback

We are still actively improving the Survivor Masters Series and adding further functionality, as well as fine-tuning the overall experience. Please keep sharing your feedback 
here
!
Consolation & Promotion Rewards (Round 1 - 5)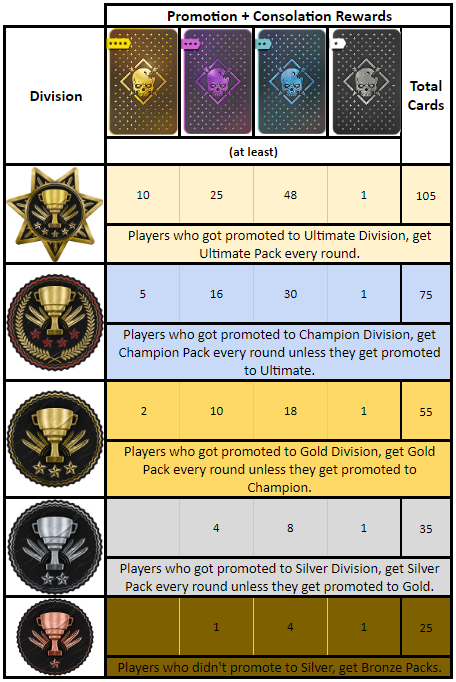 SM: Paris Tournament End Rewards (Round 6)