What's the Chance? Takeaways from crafting 70+ badges in 1 go
theldssdl
Member
Posts: 114
As the title implies, I crafted over 70 badges yesterday after saving up on fragments (not components) for some weeks. Every badge I crafted used components and fragments of equal rarity (e.g. common fragment with common components, rare fragment with rare components, etc.). I compiled the data and calculated a few simple stats to get an idea of what NG has coded. If you want evidence, here's the link to the video: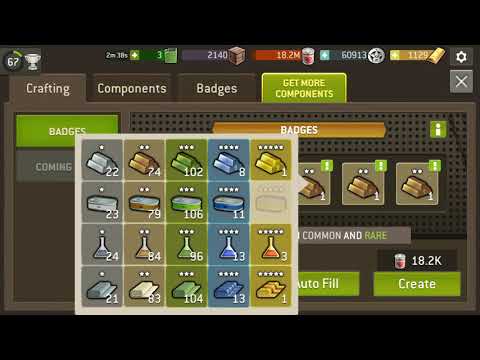 Now, here are the numbers:
- Out of 21 badges crafted using all common fragments and components, 12 were common and 9 were uncommon (57% and 43% respectively).
- Out of 22 badges crafted using all uncommon fragments and components, 13 were common, 9 were uncommon, and 0 were rare (59%, 41%, and 0% respectively).
- Out of 26 badges crafted using all rare fragments and components, 8 were uncommon, 12 were rare, and 6 were epic (31%, 46%, and 23% respectively).
- Out of 2 badges crafted using all epic fragments and components, 1 was rare, 1 was epic, and 0 were legendary.
- 1 badge crafted using a legendary fragment and components turned out epic.
At the beginning of the video, you can see I own 4 legendary badges total. 3 came from using all legendary fragments and components, and 1 came from using an epic fragment and components. I also crafted a badge a week or two ago with a legendary fragment and components, which also turned out epic. So if you would allow me to supplement the legendary level data due to small sample size, it would look like this:
- Out of 5 badges crafted using all legendary fragments and components, 2 were epic and 3 were legendary (40% and 60% respectively).
- In total, 76 badges were crafted. 37 badges stayed at the same rarity as their corresponding fragments and components, 24 dropped in rarity, and 15 jumped in rarity (49% same, 31% dropped, and 20% jumped)
My sample size is limited, but I believe large enough to give us an idea of what NG is doing and draw some conclusions. If I had to guess the actual chances NG had programmed into the game, based on these 76 badges plus the hundreds more I've crafted:
- Common: 60% chance of a common badge, 40% chance of an uncommon badge
- Uncommon: 45% chance of a common badge, 50% chance of an uncommon badge, 5% chance of a rare badge
- Rare: 30% chance of an uncommon badge, 45% chance of a rare badge, 25% chance of an epic badge
- Epic: 45% chance of a rare badge, 50% chance of an epic badge, 5% chance of a legendary badge
- Legendary: 40% chance of an epic badge, 60% chance of a legendary badge
Now, the issues I wish to call to the attention of
@Kaz
and NG programmers with the hope of effecting change
- There is WAAAAYYY too much variance where crafted badges jump or drop in rarity. Ideally, using a fragment and components all of the same rarity will yield a badge of the corresponding rarity 100% of the time. I'm sure the vast majority of players would be much happier with this arrangement. If you insist on keeping variance in badge crafting, it MUST be much smaller, something like 5% chance of swinging in either direction. But again, the ideal would be 0% variance.
- The variance is not equal. It's skewed towards dropping in rarity as opposed to jumping in rarity. After seeing game makers nerf various aspects of the game such as wrestle, stun resistance, dodge, luck, etc. all in the name of balance, this obvious imbalance is both insulting and hypocritical.
- I have hundreds of components left over. The drop rates are obscenely out of balance, and this isn't the first time I've called attention to this (
https://forums.nextgames.com/walkingdead/discussion/31753/it-bears-repeating-that-certain-odds-with-badges-are-terribly-unbalanced/p1)
. Please, fix the drop rates, because it's another insult to gamers when we get common to rare components in rewards crates, because they offer literally nothing to us, not even XP scrap potential.
- If game developers insist on variance in the rarity of crafting badges, be more transparent and show the actual percentages, like you do for other aspects of the game like dodge, sure shot, defensive stance, etc. These odds are so dramatic that they destroy trust in the game and the game makers because, despite the lack of transparency, the evidence is overwhelming. Countless gamers have observed how ridiculous the variance is. If the odds were truly fair, the developers wouldn't hesitate to include the odds. My guess is the developers won't though because they know they're purposely trying to stack the deck against gamers. At the end of the day, it doesn't matter, because evidence is evidence. But how foolish to intentionally place unnecessary road blocks in the way of paying customers.